A self-care retreat is a glorious thing. Yes, I believe in the everyday magic of self-care in the midst of our lives. But sometimes, something more is called for. Sometimes, it's time to peel back the layers, pare down the doing and slip away on a fabulous self-retreat. Get your free retreat planner here!
Organized under Uncategorized. No comments.
On an ordinary Sunday, I made this quick video love letter and flung it out to my 4000+ subscribers. Then, I thought:
Maybe you need to hear this, too.
Maybe you need to hear that you're loved. Or maybe you need someone to remind you that you are enough.
But if I could tell you anything, it would be that just because you're struggling doesn't mean that you're not doing a great job.
If it feels like a struggle, that might not be evidence of your failure.
In fact, if you're struggling, that might just be proof of how much you care.
Caring can feel vulnerable. It can lead to feelings of inadequacy or not-enoughness. But caring can also be transformative. If we let our caring lead the way, it can lead to great things.
No matter what, you're doing a great job. I love you.
with care,
Christy
Want more missives like this in your inbox? Make sure you're on the list. When you sign up, you'll get access to loads of beautiful self-care resources. Sign up now!
Organized under Uncategorized. none
I get started thinking about my word for the coming year sometime in September or October. (You can read all of my Word of the Year posts here.)
Some years, a word (or pair of words) pops into my mind, unbidden. Sometimes, it's about what I'm searching for. Other times, it's about what I need to call into my life in order to be who the year will need me to be. Sometimes, it's all wishful thinking.
This year was something different.
This year, I've wandered around, hoping the word would find me. I've shied away from anything that smacks of "should." And I've been equally wary of anything that seems too easy. I knew the word would arrive.
Like the moon. Like the cat who settles down by my belly every night to sleep. Like a small paper package on my doorstep: not remarkable, per se, but undecidedly for me. All mine.
So I waited, patiently. And every time I would look for the word, I'd hold myself back. "No, sweetheart. Just wait," that inner voice would whisper. "It will be here in time." This is always the best lesson: persistent patience. To always quest, and always be still in the meantime.
Then, I read this, about the brilliant pastor, Eugene Peterson, who recently passed away:
"Eugene Peterson's son Leif said at the funeral that his dad only had one sermon – that he had everyone fooled for 29 years of pastoral ministry, that for all his books he only had one message.

It was a secret Leif said his dad had let him in on early in life. It was a message that Leif said his dad had whispered in his heart for 50 years, words he had snuck into his room to say over him as he slept as a child:

"God loves you.
God is on your side.
He is coming after you.
He is relentless."
And I knew:
My word for 2019 is Relentless.
It's not about being the best or the most. It's not about a particular outcome or the way things will look. Relentless, for me, is something else. It is free of expectation of accomplishment. This word, as I turn it over in my mind, doesn't have any sharp edges. It's more like a river: persistent, moving steadily, without a particular outcome, simply doing what it created itself to do. And this is how I want to be, in my life. Not showy, but ever-present. Resilient in my ability to arrive, again and again, in this moment and to meet that moment as a friend.
Relentlessly loving.
Relentlessly compassionate.
Relentlessly brave.
Relentlessly devoted.
Relentlessly alive.
Relentlessly myself.
Relentless in my quest for climate justice.
Relentless in raising a child who is loved and accepted and exactly himself.
Relentless in imagining a time where we love ourselves fiercely.
Relentless in creating a world with just a little more compassion in it.
In all moments, without exception. I aim to be relentless.
The truth is that I've never aimed to be the best. Not the smartest or the fastest or the strongest. I was never at the top of my class. But even as a child, I had a vision of my life. Filled with love, creativity, healing, community, and transformation.
When I was five, I told my mom that I wanted to change the world by helping people feel better. It is an utter privilege to be able to fulfill my own prophecy. Not as the most perfectly-anything. But as my most relentless self.
This is what I'm calling in for 2019.
I'm rising to the challenge. It's going to be so much fun.
Want to know how I'm crafting my year ahead? Join me for the workshop and I'll tell you all my secrets. Plan Your Sacred Year was wildly popular and impactful last year, so I'm doing it all again on December 18th*. Live + full-on. Only $27 (although, I've added a VIP option this year!)
With deep care,
Christy
P.S./FAQ: Yes! There will be a replay. I know the holidays are hectic, so if you need this, but can't be there live, you'll have access to the replay for a full 30 days after it airs.
Organized under Activism, Sacred Focus, Word of the year. none
If you are great at sticking up for others—but maybe not-so-great at doing it for yourself, this story is for you.
True story: I yelled at a motorist for nearly running over my mail carrier.
I've had the same mail carrier for more than 5 years. He's a nice man who loves my cats and knows my baby and always, always has a smile. (I'm not sure why; it's just what his face does.) We're not close friends or anything, but I've seen him around for half a decade.
A few weeks ago, on a walk with my son, I saw a motorist in a Mercedes nearly run over my mail carrier as he was using the crosswalk. Clearly a traffic violation and super dangerous. Without even thinking, i dashed into the street, leaving my son in his stroller on the sidewalk, and yelled at the driver, who was now yelling at the person he'd nearly run over.
Now, was this smart? Eh, maybe not.
Was this my very first instinct? Absolutely.
If you mess with one of my people, I'm going to stick up for them.
It's just a fact. I can't help myself. My intrinsic protective nature is fierce. It's what led me to activism and, later, to healing work. I have a deep drive to heal, and I don't mind taking bold action to make that happen.
And it doesn't even have to be people I know!
I see myself in the context of social movements beyond just my own community. In advocating for a more just and compassionate world, I've often taken action in solidarity with people I've never met—and may never meet. Again, this comes rather naturally for me.
But nothing prepared me for motherhood in this regard.
I'm a total pro at sticking up for my child. When I need to advocate for him, my voice is clear and certain. I have no problem questioning medical authority or asking for exactly what he needs to be safe, happy and fully himself. Since he can't (yet) speak for himself, I have to be his fiercest advocate. It's my proudest role.
I'm not a perfect mom by any stretch, but nobody is messing with my kid.
But I haven't always been so strong in sticking up for myself.
I've let ex-partners treat me poorly.
I've let family members be less-than-nice.
I've unhappily eaten a crappy meal out, rather than sending it back.
When I say that learning to advocate for myself was the advanced work, I mean it.
And, of course, becoming a mom was no different. Motherhood in our society sometimes feels like an engraved invitation to martyrdom. We are judged by how much of ourselves we give.
I am still in process, very much, but I am becoming more of an advocate for myself in my role as a mom. Asking for help. Taking breaks. Letting what I do be enough. Turning off the firehose of input from the Internet and giving my brain some quiet. Doing the things with my kid that I also enjoy (he's friends with everyone at my favorite coffeeshop!).
Practicing self-advocacy as a parent is scary as hell.
Admitting we don't have everything figured out. Acknowledging that we have needs, too, in a world that still sees that as somewhat selfish.
I'm definitely not perfect at this. I doubt I ever will be. But I'm committed to remaining a trustworthy ally to myself. i am devoted to my son seeing me take good care of myself, so that he can learn that he doesn't have to have it all together all the time either.
But in the tough moments, I practice forgiving myself and try to treat myself at least as well as I treat my mailman.
Want your invitation to become your own fiercest accomplice? That's what we're all about in my new program, The Art of Self-Advocacy. Join the program right here.
With deep care,
Christy
Here's what people are already saying about The Art of Self-Advocacy:
"I wanted to let you know this work informed how I approached [a difficult] week. I feel it was so meaningful to have this in my hands over the past few days. I wanted to be able to speak on what was going on [in the world] in the past few days and be educated. I referred back to your work to stay sane. Self-advocacy echoed in my head all week. I love you and love this work. Thank you." —Louise Warren, Life Coach & Singer/Songwriter, raregem.org
"Fantastic! My tummy was all a jitter reading these words. Something was awakening in me. Profoundly scary shit whilst being so relevant and brutal in its truth. Impossible to ignore and impossible to now live without." —Colleen Donaldson, South Africa
Join the program!
Organized under self-advocacy. none

My newest program, The Art of Self-Advocacy, is now open! Grab your spot now! And listen in below as I chat with my dear friend, Paula Jenkins, all about this brand new idea and how we go beyond self-care.
One of the best parts of my work is chatting with like-minded folks who are also tackling big questions.
Which is why my friend Paula is such a gift. I first heard about Paula when we were on a blog round-up together, and through our shared mentor, Michelle Ward. The first time I reached out, I think my email said something like, "Hi! I think I should be on your podcast and also that we should be friends."
Which, before we even hit record on my first episode of her show, we were. We probably would never have met had it not been for her show, but I'm so grateful every time we get to chat about our journeys, whether in person or on the podcast. Below, I'm sharing my fourth (?!) episode on her incredible podcast, Jump Start Your Joy.
As her first guest in her "Friend-preneur Series," I was delighted to chat with her about my newest program, The Art of Self-Advocacy.
We recorded the episode just a few days after I first began exploring the topic, and now it's a full-fledged program! Like magic.
Have a listen to our conversation here:
Paula writes:
"My intent with starting this series is to share friendly conversations about the realities of being an entrepreneur. You'll get a bit more of me as a participant (instead of being the interviewer, I aim for this to be more conversational), and hear how I'm approaching entrepreneurship while also being a mom, having a 9 to 5 job, and finding harmony.
Christy Tending is my first guest in the Friendpreneur series, and we met through the podcast, two years ago. I was totally delighted to get her email asking if she could join me to talk about self-care, and her program, Sacred Focus. Christy and I hit it off and within the first two minutes of our discussion, it was clear we were going to be friends. I've very much enjoyed getting to know her over the past two years; we both live in the San Francisco Bay Area, and that means that we can meet face to face for coffee, for planning sessions, and to co-work.
Christy joins me to talk about her business, and how it's changed since she had her son about nine months ago. Our discussion starts with Christy reflecting on "how do I be a mom, and an activist, and run a business?" We are both moms (my son is now seven) and have a great back and forth on the topic of what shifts when you become a mom (and have a growing business), and how both things can challenge you to your core, and how both are an opportunity for an immense amount of personal growth."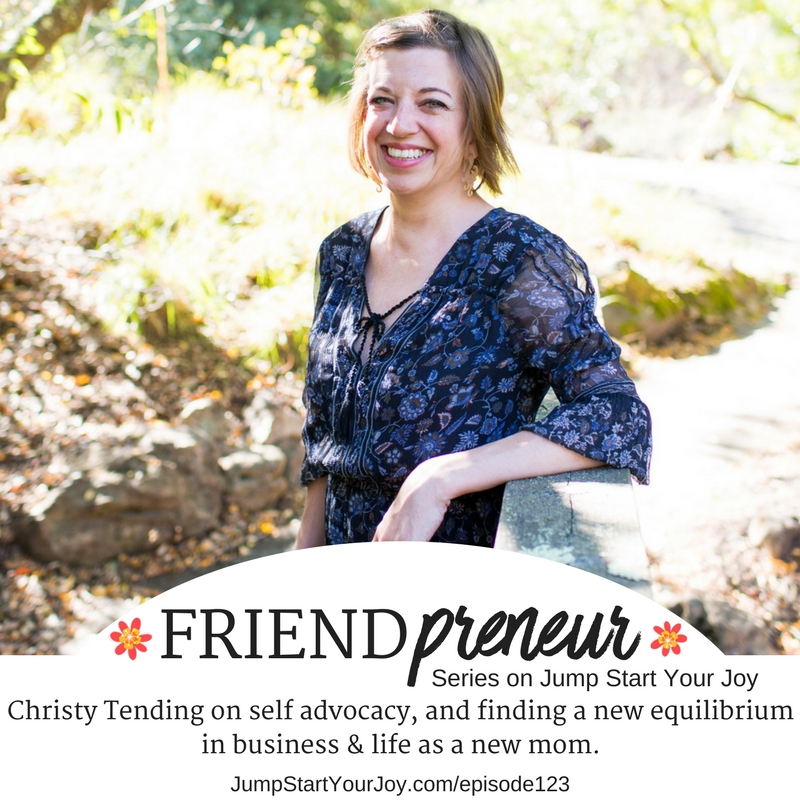 In addition to this dance of motherhood, entrepreneurship, growth, and self-advocacy, Paula and I also talk about:
The things that matter, and how to focus on those
Decisions and actions that count
How to stop spreading yourself thin
Work and motherhood as moving targets
Being gentle with yourself and compassionately present with yourself
Creating a new equilibrium
That nagging question, "Why does it seem like everyone else has it all figured it out?"
Organized under self-advocacy. none
When my coach, Jenn Lee of Artizen Coaching, invited me to participate in an interview with her, my answer was a resounding hell yes!
Jenn is such a gifted coach and has such a fabulous community of creatives, artists, coaches, and healers around her. Just the sorts of folks who could use a little more self-advocacy. And after giving her a sneak peek into the program, she figured The Art of Self-Advocacy might be just the sort of thing that her peeps might need.
In this conversation, we talk about boundaries (the kind we need and the kind we don't); my willingness to be imperfect; and why I know that self-advocacy is what's been missing (and what's next!) in the realm of self-care.
Enjoy our juicy conversation below.
And if this sparked something for you and you want to join in the Fall 2018 round of The Art of Self-Advocacy, you can hop in right here!
Thanks so much, Jenn, for this wonderful conversation! I had a blast chatting.
With care,
Christy
P.S.: Looking for my free Self-Advocacy Manifesto? Get it right here!
Organized under self-advocacy. none
In celebration of my newest manifesto, I wanted to take the time to chat a bit about the difference between self-care and self-advocacy. I haven't at all given up on the idea of self-care – in fact, to the contrary!
My aim is to elevate self-care: to make it more effective, more dangerous, and more vibrant. But in order to do that, I need to acknowledge the limits of self-care and talk about self-advocacy a bit.
Self-Advocacy isn't the opposite of self-care; it's where self-care leaves off.
It is like self-care's sassy big sister – finishing her sentences and taking risks that self-care wouldn't take.
Sound fun?
Let's dive in and chat about the key differences between self-care and self-advocacy.
What it looks like
Self-Care: Occasionally treating yourself to things, foods, or activities that feel good — especially after completing a big project.
Self-Advocacy: Intentionally and regularly curating your life to incorporate practices that make you feel whole and empowered.
What it sounds like
Self-Care: "I care."
Self-Advocacy: "May that caring create change, healing and well-being."
What it feels like
Self-Care: A much needed break — a salve to put on top of what feels painful in daily life.
Self-Advocacy: A full well of resources that come from within that allows you to meet whatever comes.
What it is
Self-Care: Compassionate presence with yourself in any moment.
Self-Advocacy: Embodied, devoted advocacy for your own freedom and well-being.
What it does
Self-Care: Offers us the healing and recovery we need, so we can dive back into what matters.
Self-Advocacy: Creates a way of living that feels internally aligned, so we can stay present with what matters.
Problem vs. Solution
We know we need self-care. The problem is how to make it happen.
Self-Advocacy gives us the tools to take the same fierce action for ourselves that we do for others, so we can live lives that feel sacred.
Organized under Featured, self-advocacy. none
Courage is slippery—a moving target.
It feels like opening your eyes and letting the world come into focus. It sounds like truth. Courage it moves like something soft yet sinewy, one paw in front of the other, each step purposeful if unsure.
It is the deep breath that moves your shoulders away from your ears. It is the stillness that gives way to a sense of clarity that allows us to make that next small move.
Courage is like learning a language—gaining new vocabulary for what we've long felt and haven't been able to articulate. Summoning our courage doesn't need to look like writing a whole novel. It's just turning that new word over on our tongues, feeling how it vibrates when we speak it out loud.​​
Courage isn't tackling the whole thing at once. Sometimes it's clearing out one stack of clutter so give yourself the spaciousness you've been craving.
It's not about changing your whole life. It's making a dentist appointment or eating some vegetables or taking that bag of clothes that hurt your feelings to Goodwill.
Sometimes it's doing the thing you know that you've been avoiding. You already know what you need to do, and yes, it might not feel like pleasure. It might not be a joy to do it. Courage is knowing that you'll be glad once you've gotten it done. it's taking action so that you can wash your hands of that thing.
Courage is getting rid of that cloud that's been hanging over your head, even if it's just for today.
And sometimes courage is not doing something. Because if your tendency is to try to be all things to all people, to say yes to it all, and to shoehorn just-one-more-commitment into that glorious life of yours… courage might be not doing just one of those things. Courage might just look like sitting on your hands in the discomfort of not-doing and being with that sensation. (Not that I know anything about that!)
It's changing a pattern that isn't serving us…
…the way placing a rock in a stream changes its course ever-so-slightly.
Courage is not simply saying that things are going to be different this time. Courage is the act of enforcing those boundaries you know you need. It's speaking up and offering up your truth, no matter how insignificant it might seem. Courage is treating your truth like the sacred gem it is, not burying it away.
When I talk about self-advocacy, this is what I'm talking about.
These acts of courage on your own behalf add up. They create the felt experience of knowing yourself and taking action on your own behalf. Even if it's small, the experience of flexing your courage can be eye-opening. Our courage stretches what we know in our cells as possible.
It isn't glamorous. It doesn't feel heroic. It might not even feel like it's big enough to make a difference. But these small tastes of courage will bring you closer to your heart, and with practice, can transform your life. Really.
Oh, and don't forget!
I'm hosting a (totally free) behind-the-scenes workshop on September 27th at 12pm Pacific. In the workshop, I'll show you what I've been grappling with in my personal practice and give you the freshest tools that you can apply to your real life right now.
Organized under self-advocacy. none
I've been thinking about Anthony Bourdain all weekend.
I've been thinking about slurping noodles on plastic stools in Vietnam and standing on the Charles Bridge in Prague at dawn; about what it means to love and live fully. His death has affected me unexpectedly deeply, and I'm so sad that he's gone.
On the surface, we had very little in common, he and I. But as a fast-talking East Coaster with a love of travel and a skepticism of anything mainstream or authoritarian, I felt like we'd be kindred spirits. His writings and shows have influenced my travel for more than a decade. He dared me to go beyond my comfort zone and imagination.
I have also, for a good chunk of my life, struggled with depression.
I don't say this for sympathy, but to bring the truth into the light. My hope is that my experience will help you feel less alone.
I want to talk about this today​, even though it is uncomfortable and even though there may be an avalanche of unsubscribes.
Here's what I want you to know:
​I have depression. My life doesn't suck. I'm not sad because something specifically sad happened. I seemingly have everything and I still have depression.
It is my actual job to teach people about self-care and healing and spiritual practice and I still have depression. This is my life's work, and I still struggle.

Depression has nothing to do with not trying hard enough.

It's not a matter of needing to meditate or to do yoga or to eat right or get more fresh air. It has nothing to do with trying hard – especially not based on other people's standards of "trying hard". It's a matter of what is happening in the brain.
External circumstances or "knowing better" won't necessarily fix depression. Yes, getting a good night sleep helps. But my depression doesn't vanish just because things are going well in my external life.
I feel angry sometimes because I know that my depression is robbing me of joy and my ability to be present for moments of exquisite awesomeness because my brain is lying to me. Knowing that I'm not able to fully appreciate things makes me sad and it makes me angry. Knowing that I self-sabotage or push people away hurts.
I also feel afraid sometimes because mental healthy is so stigmatized, still. There are more open conversations than ever. But I am still afraid because I worry that people will judge me or that they will think that I'm an unfit parent or that they'll think I'm a fraud.
This is what depression does. It creates elaborate illusions of isolation and separation.

Because depression is an evil fucking liar.​

Going to my general practitioner to ask for anti-depressants was one of the weirdest, bravest, scariest things I've ever done.

The conversation went something like this:


Me: "Hi. I have been depressed for a long time. I see a therapist, I meditate, I do great self-care, and I've tried everything and nothing is helping. I want to pursue anti-depressants as an additional method of treating this."
My doctor: "Okay. Let's take a look at what your options are."

Just like that. She helped. And the Zoloft has helped. It's not perfect, but it's better.
It was totally nerve-wracking and I felt so much better instantly simply by telling someone I needed help and having them listen and help me to make a plan.
Hotlines are wonderful. In the US, the National Suicide Prevention Hotline is: 1-800-273-8255​
Reaching out to your friends is even more wonderful (but not the way you might think).

Don't wait for your friends who you think might be having a tough time to say something. 

They may not be able to. Check in on them. Tell them you're thinking of them. Invite yourself over. Let them know you are. Your friends with depression might not be able to reach out to you first.

Just because I have depression doesn't mean that I don't have something valuable to say or contribute. It doesn't define me. And if you have depression (or anything similar going on), it doesn't define you either.
In fact, I think we are often the canaries in the coal mine. We are often the ones who are most sensitive to the ways that our world is sick and hurting.
What I really, really want you to know is that you are a brave person who is capable of hard things. If you woke up this morning, you're doing great. If you got out of bed, you are slaying it. If you are breathing, you are winning.
We need to change the conversation. We need to change the systems that make depression so rampant: capitalism, sexism, white supremacy, et. al. And we need to make sure that everyone has access to the mental health care they need.
I have depression, and I believe that another world is possible. I plan to keep fighting for it.

If you've read this far (bless you!), here is your invitation: I've written a new manifesto about Self-Advocacy. This is about what it means to take a stand for ourselves in the world, as we are right now. It's free. You can download it here.
"Real courage is when you know you're licked before you begin,
but you begin anyway and see it through no matter what." —​ Harper Lee
I love you so much.​
Christy
Organized under Activism, self-advocacy. none
I'm so thrilled to announce The Self-Advocacy Manifesto, a free mini e-book all about how to learn to advocate for yourself with the same skill that you advocate for others
In a world…
In a world that o en tries to teach us that we are disposable, caring for ourselves can seem radical. Every act of self-care is a declaration that we are worthy and deserving and enough. Every act of self-care is an act of fierce compassion. I still believe this.
And yet, self-care has its limits.
Because external practices cannot address what is internally misaligned.
A disclaimer
In case you hope to find a set of complete thoughts here, polished to ideological perfection and wrapped in shiny paper, I will now promptly disappoint you. You won't find any of that here.
This is not self-deprecating; this is the spirit of this work in action. This is permission to be human, imperfect and vulnerable.
What I offer here is not the final say, but a weather report. This is a snapshot of the current climate and, using the best data available to me, a glimpse at what comes next. This is what I know to be true; what my experience tells me; and what I believe is possible.
What's possible
• A more equitable and empathetic world.
• More people who are empowered to take fiercely compassionate action.
• A life practice that honors our complete humanity.
• Well-being that is not contingent on health or morality.
• Value and worth that are untethered from accomplishment and productivity.
You still here? Let's go.
What's next
What I know — a er working with hundreds of students (and being on this journey in my own life) — is that sometimes we have to get scrappy. We have treat ourselves as sacred, but we also need to defend that sacredness with fierce compassion.
We need to become advocates for ourselves with the same devotion with which we advocate for others. This requires internal alignment that heals us at the root — not just on the surface.
While self-care and self-compassion are remarkably powerful, self-advocacy – taking action in alignment with our truth and our needs – is the scary, but really juicy stuff.
When we adopt a spirit of self-advocacy, we reclaim our power: in relationships, in work, in life.
In practice, this looks like creating rock-solid boundaries, meeting our deepest needs, and learning to use our voices in a way that people will hear. It's speaking confidently from our hard-won experience. And it's about owning our role as leaders in our families, communities, and world.
Self-advocacy doesn't necessarily look like self-care. It isn't something you'd necessarily put on Instagram. Yes, self-care is beautiful, and that seed of care is necessary, but it's just the beginning.
Advocating for others often comes easily.
Learning to advocate for yourself is the advanced work.
I know from talking to thousands of rebellious humans that it's easy to take up a cause or serve others. Learning to advocate for yourself is the advanced work.
Going beyond self-care to self-advocacy can feel like a big leap. It takes insight, courage, and plenty of action.
To read the rest of this piece, download the free manifesto and begin advocating for yourself with the same fierce compassion you offer others.
Organized under self-advocacy. none